Ernst & Young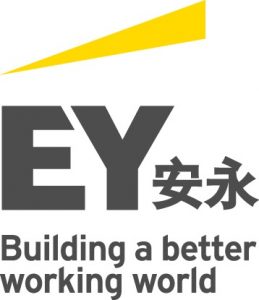 About EY
EY is a global leader in assurance, tax, transaction and advisory services, employing 250,000 people in over 150 countries/regions and 730 offices around the globe. Our strategy is to utilize EY's global resources proactively, in particular, our professional talent and knowledge to assist clients to tackle challenges in this fast and ever-changing market environment. The insights and quality services we deliver help build trust and confidence in the capital markets and in economies the world over.
Our Greater China network brings together the EY practices in mainland China, Hong Kong, Macau, Taiwan and also Mongolia, making us a globally integrated professional services network in the Greater China region. We have had a presence in the region for 50 years and are able to support you through our network of 26 offices in our Greater China region: Beijing, Hong Kong, Shanghai, Guangzhou, Macau, Shenzhen, Chengdu, Hangzhou, Nanjing, Shenyang, Suzhou, Tianjin, Wuhan, Xian, Changsha, Dalian, Qingdao, Xiamen and Zhengzhou. In Taiwan, we are located in Taipei, Taoyuan, Hsinchu, Taichung, Tainan and Kaohsiung – and the Mongolia practice's office is located in Ulaanbaatar.
With around 16,000 professionals in our Greater China region, we are committed to bringing together the right people, at the right time, and in the right place to give you the seamless, high-quality service you need. That is how we make a difference.
ey.com/china